Striking titans, #1 Robert Whittaker, and #5 Darren Till, face off in a middleweight showdown that looks likely to fast-track the victor to the next crack at the belt, following Paulo Costa's shot at the throne.
Saturday marks the final return of the UFC to Fight Island™️ for July 2020. This event is the first to seem somewhat exotic, as Whittaker and Till faced off in the beach-side octagon the day before weigh-ins. Aside from that, Yas Island has effectively operated as any other empty stadium would have for the viewing audience – an octagon and a few seats ringside.
The main event should spark excitement and wonder, but the prospect of either man losing is far too sad a thought to muse. Darren Till's decisive victory over Kelvin Gastelum, having moved up in weight to fight the interim title challenger in his middleweight debut, proved the championship mentality of the scouser. Unfortunately for Till, the win has not aged well as Gastelum has looked a shadow of his former self from the Adesanya shoot-out. Robert Whittaker is an absolute boi, too. Having fought the roided cannonball, Yoel Romero, for ten rounds and still standing, Whittaker galvanised the UFC audience. Moreover, both men have openly spoken of more intimate issues in their life relating to their mental health, which has only strengthened connections to their fans.
Two veterans clash in a madness of a co-main event. Both men engage in hopefully their final match of a trilogy; fifteen years since the first at PRIDE 2005, and five years from the second at UFC 190. Neither man owns a chin able to pull off a 'Glover Teixeira' renaissance during their twilight years, and have been feasting on the dregs that the light heavyweight division offers in abundance. Rua-Nog could be the ideal match for both, if winner and loser both retire after Saturday's events.
With a ton of recognisable names in strange match-ups or competing at different weight classes, this card most likely will end up a goofy but entertaining night of mixed martial arts action.
---
Main Card
Middleweight (185)
Robert Whittaker (20-5) vs Darren Till (18-2-1)
Robert Whittaker's stock saw a drastic fall after the Adesanya loss in which fans have pointed at a chin that has worn away over ten rounds prior by Yoel Romero. It is far too early to forget how much of a force Whittaker has been in the middleweight division over the past few years. Whittaker is an exciting fighter because he is not content to sit on the back foot, he looks to counter hard and with volume. Violent flurries of hooks are combined often with a finishing head kick that seeks to end the match, rather than point score. Whittaker also showed his ability to fight in a calculated manner during the Romero rematch, regularly pumping out a jab between body and head, that stole the first two rounds from under Romero's nose.
Darren Till on the other hand, is a man not used to the new weight class, despite it being his more natural fighting weight. Having spent years pushing his body to the limits to fight at welterweight and have a physical advantage over the majority of the roster, Till was forced to move up following devastating losses to Tyron Woodley and Jorge Masvidal. In his one match at middleweight, though, Till looked a man reborn. Defying the odds, Till left the betting favourite, Kelvin Gastelum, looking lost in the octagon as he re-introduced a chopping calf kick to his arsenal. When Gastelum attempted to close the distance and land his ridiculously fast 1-2, Till made the educated decision to clinch, out-muscle the smaller man, and throw elbows on the break that were often just inches away from landing.
Good lord, this fight will be a banger on the feet. Till is naturally a low-ish output fighter, opting to explode in bursts and then relying on his footwork to evade an opponent for most of the round. What Till struggles with is head movement beyond the first two or three shots, however. Leaning his head back and leaving his chin exposed high in the air, if an opponent can feint their way forward into a long four-five shot combination, they can land the money shot (as Masvidal did back at UFC Fight Night 147). Whittaker is a man who enjoys to throw volume. Styles make fights.
Predicted Result: Whittaker Decision
The smart bet would be to see this fight end before the scorecards. An even smarter bet would be to favour Whittaker to end Till early with a counter-attack on volume that overwhelms Till's defensive weak-points. I see the fight, however, being a touchy affair for two or three rounds before both men start sitting down on their shots. Respecting each other's power, expect a jab and leg kick war, before the flashier shots arrive in the final two rounds.
Result: Whittaker def. Till // Decision (unanimous – 48-47, 48-47, 48-47)
Winner ✔️ // Method ✔️ // Round ✔️
---
Co-Main Event
Light Heavyweight (205)
Maurício Rua (26-11-1) vs Antônio Rogério Nogueira (23-9)
This is gonna be a fairly depressing fight between two veterans who really should not be fighting this late into their careers. Rua's had a decent past few years on paper, but his victories do little to hide the decline to his striking abilities. Getting out-struck by Paul Craig, not just by volume but also with variety and flair, is a dreadful red flag that perhaps you are past your best. Rua's heart and wrestling ability cannot be questioned, however, as he did go on to secure a draw with Craig after an extremely shaky first round of survival. A split decision victory over Corey Anderson has aged well, but that was four years ago. Since then, Rua beat Tyson Pedro after Pedro sustained an injury and Gian Villante who is a certified can. Rua can wrestle and use his old man strength, but that is about it for the 2020 version of the legend.
Nogueira has had a more depressing past few years with the UFC. Losing to Ryan Bader is to no shame of the veteran, but a loss to Ryan Spann highlights Nogueira's decline as he was blown away by the man that Sam Alvey almost finished. Speaking of Smilin' Sam, he represents Nogueira's last win back in 2018. Nogueira hasn't lost his power, and it does still pose a threat to his old dance partner, Rua. But once the punches are thrown at the speed as if they are underwater, then the threat of a knockout declines somewhat.
Predicted Result: Rua Decision
Due to the relative wear and tear of both men, this fight will hopefully be somewhat competitive and we can ignore the fact that a 38yr old and a 44yr old are battling for pennies.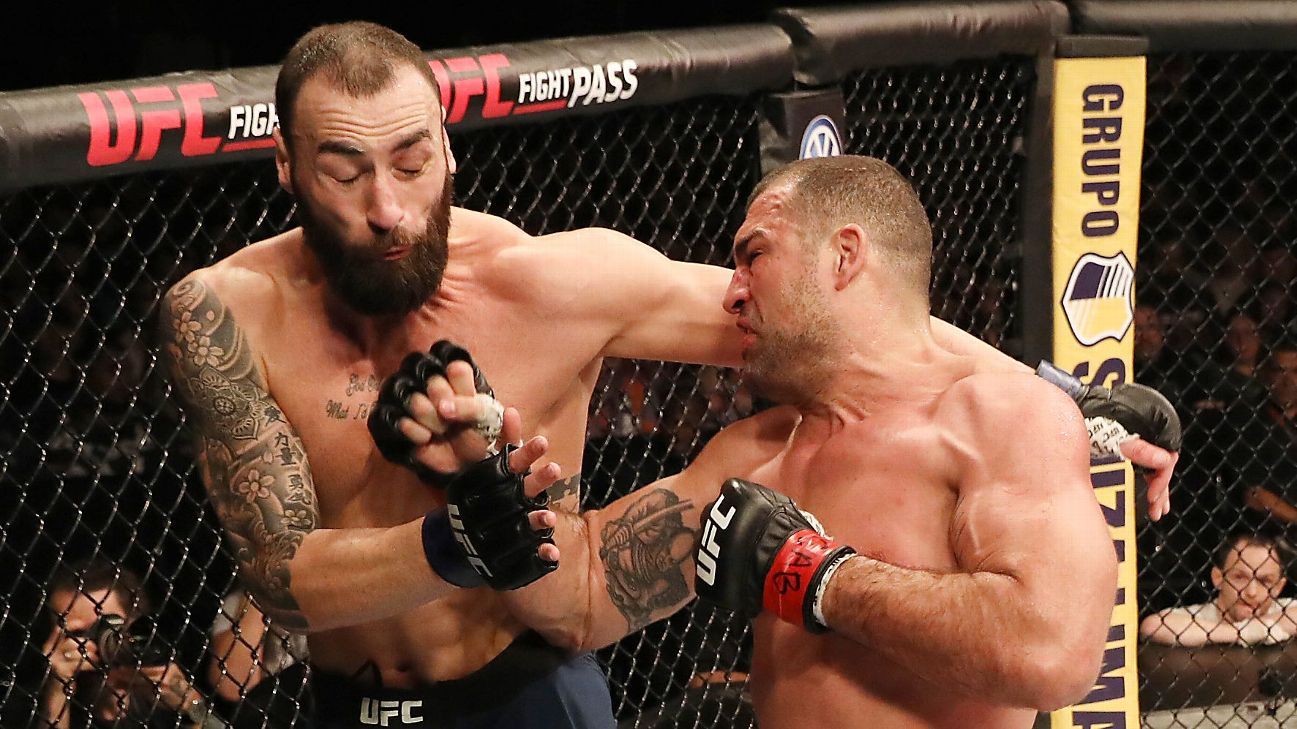 Result: Rua def. Nogueira // Decision (split – 28-29, 29-28, 29-28)
Winner ✔️ // Method ✔️ // Round ✔️
---
Main Card
Heavyweight (265)
Fabrício Werdum (23-9-1) vs Alexander Gustafsson (18-6)
Werdum looked arse in his comeback fight against Alexey Oleinik. Out of shape, pieced up on the feet, and sluggish in his grappling, Werdum looked like he hadn't sparred once since his PEDs ban from two years prior. At the weigh-in, Werdum looked like he had got himself back into a more respectable shape, and perhaps will enter this bout with a refreshed mindset. On the ground, Werdum is perhaps the biggest threat in the heavyweight division. But for Werdum to force the fight to the ground, he has to regain his confidence in his striking and throw unorthodox shots to pressure opponents to panic grapple.
Gustafsson makes his heavyweight debut a year after his retirement following an embarrassing submission loss to Anthony Smith in his homeland of Sweden. Automatically, Gustafsson now represents a top five striker in the barren heavyweight division. Losing his advantages of reach and height at light heavyweight, Gustafsson will be hoping the extra weight brings a much-needed boost to power, a limiting factor of his otherwise elite boxing ability. Underrated wrestling and grappling means Gus should be able to hold his own against the lay and pray-ers amongst the heavyweights, but should by no means try his hand in this match-up.
Predicted Result: Gustafsson TKO Round 2
Werdum's stand-up looked arse against Oleinik. I have to repeat it, simply for the fact that it truly was arse. Plodding backward footwork, lazy arm punches, a dejected 'feel sorry for himself' demeanour, Werdum looked dreadful and I don't expect the 42yr old to have changed so soon after.
Result: Werdum def. Gustafsson // Submission (armbar) Round 1 2:30
Winner ❌ // Method ❌ // Round ❌
---
Women's Strawweight (115)
Carla Esparza (16-6) vs Marina Rodriguez (12-0-2)
Carla Esparza is a veteran of WMMA, with wrestling chops that place her within the elite of the sport. During her earlier career, Esparza won matches on volume and tenacity alone, suffocating opponents to the floor and holding them down with ease. Now in the dying embers of her fighting life, Esparza has started to show signs of a declining gas tank, especially in the third round. Her split decision victory over Michelle Waterson was controversial, and largely involved Esparza barely out-striking the kickboxer. Perhaps her unwillingness to shoot for takedowns was in part due to her self-realisation of a slowing gas tank.
Marina Rodriguez struggles against wrestlers but comes on strong late. Rodriguez bangs hard on the feet, and has a significant size advantage at the strawweight division. If Rodriguez can overcome early wrestling adversity, then she should be able to profit during the later rounds against a fighter who is outgunned on the feet.
Predicted Result: Esparza Decision
Esparza should be able to overcome the odds and father-time once more, with a wrestling heavy performance that steals the first two rounds and relies on her rugged will to survive in the third.
Result: Esparza def. Rodriguez // Decision (split – 28-29, 29-28, 30-27)
Winner ✔️ // Method ✔️ // Round ✔️
---
Light Heavyweight (205)
Paul Craig (12-4-1) vs Gadzhimurad Antigulov (20-6)
The weigh-in staredown could prove the most exciting part of this fight. I will always support Paul Craig as a fighter, simply because of his Scottish (therefore, British) roots, but he sure does make it hard to be a fan. Winning one to lose one in typical fashion, Craig, unfortunately, enters the fight coming off a rear-naked victory over Vinicius Moreira. With a solid submission game and a surprisingly improved striking game (see: Shogun Rua fight), Craig has slowly developed himself in the shadows.
Antigulov is a submission fella too, with a striking defence reminiscent of Craig's. Antigulov gasses himself out often, but Craig has been guilty of the same sin before. This fight should not be so high on the main card, but it will be full of comedy that is typical of the light heavyweight division.
Predicted Result: Craig Submission Round 3
Craig WILL break the streak and secure two victories in a row; Antigulov certainly offers the best chance for this streak to be broken. Expect an exciting first round of sloppy grappling and striking though!
Result: Craig def. Antigulov // Submission (triangle) Round 1 2:06
Winner ✔️ // Method ✔️ // Round ❌
---
Welterweight (170)
Alex Oliveira (21-8-1) vs Peter Sobotta (17-6-1)
BTEC cowboy desperately needs an emphatic win after a split decision victory over Max Griffin was preceded by a three-fight slide to middling opposition (Gunnar Nelson, Mike Perry and Nicolas Dalby). Oliveira has sadly declined over the past few years but is a wily veteran on the feet who prefers to bully opponents.
Sobotta is a decent fighter and will come out on top if he can survive during the first round of hell that Oliveira will bring. A tired Oliveira should prove easy pickings for Sobotta to takedown and submit in the third round.
Predicted Result: Oliveira TKO Round 1
I think Oliveira catches Sobotta early and doesn't look back. The longer the fight goes on, the better Sobotta's chances of outlasting the gas tank of Oliveira.
Result: Oliveira def. Sobotta // Decision (unanimous – 30-27, 30-27, 30-27)
Winner ✔️ // Method ❌ // Round ❌
---
Welterweight (170)
Khamzat Chimaev (7-0) vs Rhys McKee (10-2-1)
Chimaev has made a name for himself by returning to fight ten days after his debut victory at Fight Island, a D'Arce choke victory over John Phillips. Wild striking, ridiculous strength in the grappling department, and meme-worthy interviews, Chimaev is fast becoming a fan favourite as the Swedish Khabib.
Rhys McKee is a decent Cage Warriors fighter, a promotion which effectively acts as a feeder pool for the UFC. McKee likes to strike on the feet, but does not own defensive sensibilities adequate to cope with consistent front-foot pressure by opponents.
Predicted Result: Chimaev TKO Round 2
Chimaev will come out fast and hard, McKee will wilt.
Result: Chimaev def. McKee // TKO (punches) Round 1 3:09
Winner ✔️ // Method ✔️ // Round ❌
---
Preliminary Card
Lightweight (155)
Francisco Trinaldo (25-7) vs Jai Herbert (10-1)
Old man Trinaldo is a bit of a beast at lightweight, despite routinely going to decision victories. Well rounded in all aspects of the game, Trinaldo is only hampered by his age at 41yrs. Herbert is another Cage Warriors prospect who has cleared out the regional fighters with ease, often on the feet with crisp boxing.
Predicted Result: Trinaldo Decision
Despite missing weight, Trinaldo's experience should be enough to stop the newcomer Herbert from having a UFC debut to remember. It will be a close one, though.
Result: Trinaldo def. Herbert // TKO (punches) Round 3 1:30
Winner ✔️ // Method ❌ // Round ❌
---
Welterweight (170)
Nicolas Dalby (18-3-1) vs Jesse Ronson (21-10)
Dalby's second stint in the UFC has been going far better than his first (1-2-1), with a decision victory over Cowboy Oliveira. Dalby is an erratic striker who looks to end fights early. Jesse Ronson is a career journeyman of regional promotions, barring his 0-3 record in the UFC during 2013-2014. Dalby should be levels ahead of Ronson in the striking department, with more power and variety to his attacks.
Predicted Result: Dalby Decision
The Dane should hopefully go on to fight Danny Roberts in a banger of a fight, following a cruise to a decision victory tonight.
Result: Ronson def. Dalby // Submission (rear-naked) Round 1 2:48
Winner ❌ // Method ❌ // Round ❌
---
Heavyweight (265)
Jake Collier (11-4) vs Tom Aspinall (7-2)
Collier is an average fighter who is unlikely to expose the weaknesses of an opponent's game. Luckily for Aspinall, his vastly superior striking power will mask his ability (or inability) to grapple effectively on the ground. Aspinall should be skilled enough to earn his cheddar early.
Predicted Result: Aspinall TKO 2
English heavyweight prospects make me a happy boi.
Result: Aspinall def. Collier // TKO (punches) Round 1 0:45
Winner ✔️ // Method ✔️ // Round ❌
---
Featherweight (145)
Movsar Evloev (12-0) vs Mike Grundy (12-1)
Evloev's decision victory over Enrique Barzola highlighted his worth, overcoming the gatekeeper with relative ease. Grundy is a submission-first fighter who shocked the odds when he stopped the superior striker, Nad Narimani, by TKO in March 2019. A well-balanced fight between two rising threats in the featherweight division, Grundy's extra power may end up the dividing factor in this affair.
Predicted Result: Evloev Decision
Evloev shoots often (nine completed takedowns over his thirty minutes of octagon time) and has the necessary grappling to grind out a gutsy decision victory over his biggest challenge to date.
Result: Evloev def. Grundy // Decision (unanimous – 29-28, 30-27, 30-27)
Winner ✔️ // Method ✔️ // Round ✔️
---
Heavyweight (265)
Raphael Pessoa (10-1) vs Tanner Boser (18-6-1)
Pessoa looked terrible against Cyril Gane, choked out with an arm triangle in the first round. In all fairness to Pessoa, Gane seems on course to be a future heavyweight champion. An issue with Pessoa is his record that is padded to the highest heavens, with five of his victories coming against win-less fighters. I was harsh about Boser before he nuked Philipe Lins in the first round. I will not make the same mistake again. I am all for a big-hitting Roy Nelson lookalike.
Predicted Result: Boser TKO Round 2
If Boser brings the same mentality and aggression that was in the Lins fight, then he should be able to blow away Pessoa who is more than happy to rest his back against the cage.
Result: Boser def. Pessoa // TKO (punches) Round 2 2:36
Winner ✔️ // Method ✔️ // Round ✔️
---
Women's Bantamweight (135)
Bethe Correia (11-4-1) vs Pannie Kianzad (12-5)
Oh no, a Bethe Correia fight. Kianzad has a decent win over Jessica Rose-Clark, but Correia is coming off the biggest W of her career, a hilarious unanimous decision over Sijara Eubanks. Kianzad's superior striking should be enough to outwork Correia on volume, rather than any sort of style or flair.
Predicted Result: Kianzad Decision
No thank you.
Result: Kianzad def. Correia // Decision (unanimous – 29-28, 30-27, 30-27)
Winner ✔️ // Method ✔️ // Round ✔️
---
Welterweight (170)
Ramazan Emeev (18-4) vs Niklas Stolze (12-3)
Emeev likes to grapple and secure submissions when the timing is right. Inability to diversify his striking and takedowns meant Emeev lost to gatekeeper Anthony Rocco Martin. None of this should matter against Stolze, a regional fighter who prefers to kickbox and stay far away from the mat.
Predicted Result: Emeev Submission Round 3
Emeev could secure his first submission victory in the UFC tonight, granted, against an opponent not of UFC calibre.
Result: Emeev def. Stolze // Decision (unanimous – 29-28, 30-27, 30-27)
Winner ✔️ // Method ❌ // Round ❌
---
Lightweight (155)
Nathaniel Wood (16-4) vs John Castañeda (17-4)
Nathaniel Wood seemed destined to fight Umar Nurmagomedov in an incredible test of striking versus grappling. Unfortunately for the Nurmagomedov family, they sadly lost their coach and family man, Abdulmanap Nurmagomedov, due to COVID complications. As a result, Wood will be able to showcase his striking against regional wrestler John Castañeda. Wood's TDD and volume striking will secure a victory in this far easier match-up.
Predicted Result: Wood TKO 3
Wood could fall back on his excellent submission game, but I expect Wood will be far superior on the feet and will press the advantage with ease.
Result: Wood def. Castañeda // Decision (unanimous – 30-27, 30-27, 30-27)
Winner ✔️ // Method ❌ // Round ❌
---
Prediction Accuracy
UFC on ESPN 14: Whittaker vs Till
Winner: 13/15
Method: 9/15
Round: 6/15
2020 MMA Season
Winner: 56/93
Method: 50/93
Round: 42/93
Takeaway comments: Till vs Whittaker 2 please and thank you!
---
Tipping Jar
Pintsized Interests is just a baby finding its first steps in the big, bad world of sports journalism. If you enjoy the content that is regularly uploaded then please consider donating via the link below. Any amount is greatly appreciated, and will go towards ensuring the survival of Pintsized Interests in the long-term.
---