MAFB: UFC on ESPN 31 Aldo vs Font Review
Pintsized Background
First things first, Jose Aldo and Rob Font deserved the Fight of the Night bonus. Cheyanne Vlismas vs Mallory Martin was a one-sided sparring session, what the hell has the UFC brass been smoking the past few events? Regardless, it was a pleasure writing MAFB: Aldo vs Font review – especially after the torture trying to find positives in Tate vs Vieira's showdown last week.
Aldo/Font and Kape/Zhumagulov attract the attention on MAFB: Aldo vs Font review, but try and catch Claudio Puelles vs Chris Gruetzemacher if you haven't already. Puelles was all but written off after a crushing loss to Martin Bravo on TUF in 2016. After dismantling Gruetzemacher, admittedly, an over the hill Gritz, it is clear that the Peruvian has put in serious work behind the scenes.
Failed to catch last weekend's action? No worries, we have you covered:
PI's Preview: UFC on ESPN 31: Aldo vs Font Predictions.
PI's Scoring: MAFB Math: UFC on ESPN 31.
Unconvinced by Pintsized's mystical predicting powers? Take a look at our prediction success last month detailed in UFC Predictions Results: November 2021.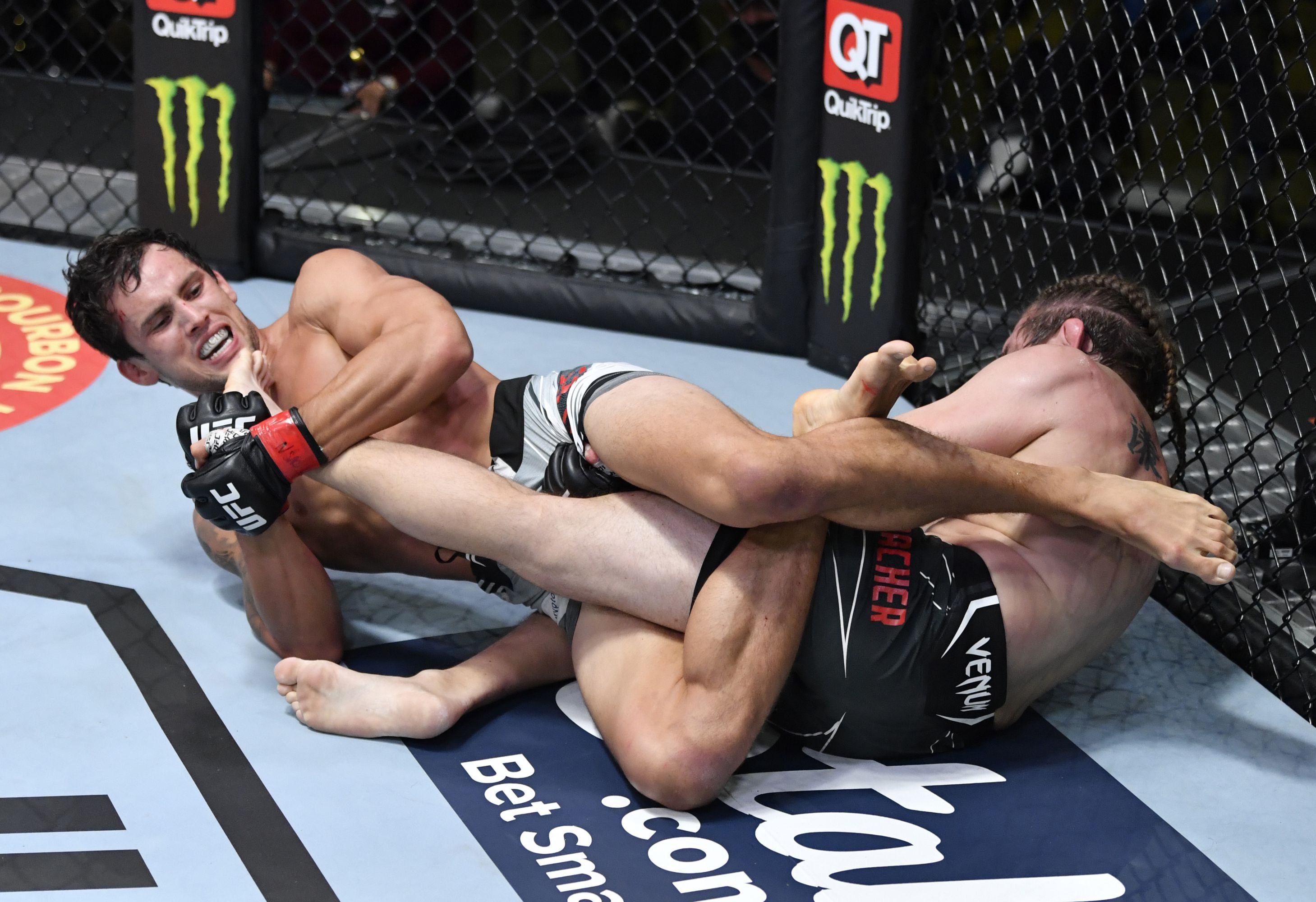 ---
Jose Aldo vs Rob Font
Aldo def. Font // Decision (unanimous – 49-46, 50-45, 50-45)
Fight Breakdown
Are we ever going to see the day where Jose Aldo no longer derails the hottest prospects? There were strong Aldo vs Renato Moicano vibes emanating throughout the media week. The answer was clear by the end of the first round. For the first four minutes, Font appeared untouchable. Darting in with rapid straight shots, Aldo was unable to make a read on the prospect. The Brazilian was forced to answer further questions when Font successfully took the veteran down.
Experience is a vastly underrated component of a fighter's kit. Sure, the fight game evolves so rapidly that sometimes experience is worthless – but Aldo's continued success has stemmed from his ability to adapt. With ten seconds left on the clock in the first round, Aldo cracked Font's stance-switching. As Font dropped his hands and switched stances on the edge of striking range, Aldo timed a monster straight that rocked Font and flipped the fight on its head.
Font's positive first round lay upon the confidence and freedom in which he danced on the outside. By earning Font's respect, Aldo faced a far more tentative opponent for the remainder. While Aldo didn't land as clean a shot as the straight right, Font's panicked defensive evasion to every Aldo advance looked terrible on the scorecards. The striking exchanges themselves were still relatively equal with Font's jab irritating Aldo throughout. A tiring Aldo craftily navigated the championship rounds with suffocating top control despite Font's activity off his back. All in all, Font vs Aldo was a wonderful fight that justifies why some hold Aldo as their GOAT.
Jose Aldo Analysis and Future
With three dubs on the trot, the Brazilian has once again mounted an unlikely charge back towards the title. The scars of Petr Yan's brutal TKO victory prevent Aldo from challenging for the title immediately next, but a win over Sandhagen/Dillashaw would tip the rematch. Knowing the UFC, we will likely see Aldo face Sean O'Malley if the American is victorious this weekend against Raulian Paiva.
Rob Font Analysis and Future
Aldo may be a step behind his prime form, but to go the full twenty-five minutes with the former champion still adds value to Font's stock. Cory Sandhagen and Rob Font offers an insanely technical, fast-paced striking affair that could draw FOTY credits. A bout with Merab Dvalishvili would be tasty too. The Georgian's wrestling would have to be on point to get the better of Font, while Dvalishvili also showed flaws on the feet against Marlon Moraes.
---
Manel Kape vs Zhalgas Zhumagulov
Kape def. Zhumagulov // TKO (punches) Round 1 4:02
Fight Breakdown
Starboy entered the UFC on the back of a hype train that doesn't typically accustom Flyweights. After two debut losses, the writing appeared to be on the wall already for the Portuguese prospect. All doubts have been wiped after he schooled Zhumagulov and brought fireworks that have been severely missed until now.
Zhumagulov isn't an athletic freak, but he has proven to be a relentless force with an unbreakable chin. Well. Nearly unbreakable. Zhumagulov kept Kape pinned on the back-foot throughout the first round, but the Kazakh's pace would prove to bite him. By forcing Kape into an uncomfortably fast fight, the best of Starboy was drawn out. As Zhumagulov never deviated from straight shots, Kape effortlessly swayed either side while threatening with looping counter uppercuts.
After a failed leg kick while left Kape unbalanced, the Portuguese striker defied physics by delivering a nuclear 1-2 that dropped Zhumagulov. The power that was delivered, despite the broken base, highlights the natural power that Kape possesses. Pushing the wobbled Zhumagulov to the cage, Kape's barrage of short hooks didn't land cleanly but forced the referee to intervene. It's time to get behind Starboy.
Manel Kape Analysis and Future
After a difficult start to his UFC career, back-to-back finishes will have drawn back much of the love lost in tiresome decision losses to Matheus Nicolau and Alexandre Pantoja. Flyweight isn't the deepest division, but there is no reason to rush Kape towards a title shot. Tim Elliot's exhausting pace would draw Kape into action in a similar fashion as Zhumagulov.
Zhalgas Zhumagulov Analysis and Future
Currently sitting on a 1-3 record, Zhumagulov can no longer sell his unbreakable chin as a reason to hold his place on the roster. As a grinding fighter with a penchant to go to decision, it wouldn't be surprising to see the thirty-three-year-old cut – as harsh as it would seem. Likely, however, is the UFC feed Zhumagulov as a stern test for a rising competitor like Tagir Ulanbekov.
---
Pintsized Awards
Pintsized Prospect
Rafael Fiziev. Fiziev is no spring chicken in terms of age, already twenty-eight years old, but he is baby in regards to MMA experience.
Pintsized Veteran
Bryan Barberena. Darian Weeks performed well above was was expected. Barberena had to dig deep and drag the newbie into an ugly war that only Barberena can thrive in.
Surprise of the Night
Guida sub. Santos. Bruh. I'm still speechless. How didn't Guida find himself in dreamland at some point in the first round?
Fight of the Night
Aldo def. Font. Font's excellent game plan, Aldo's adaptability, both men's durability and heart – a true main event billing.
Finish of the Night
Morales KO. Smolka. A huge overhand out of the clinch that spun Smolka several feet across the cage, real anime foolishness.
---
Tipping Jar
Pintsized Interests is just a baby finding its first steps in the big, bad world of sports journalism. If you enjoy the content that is regularly uploaded then please consider donating via the link below. Any amount is greatly appreciated, and will go towards ensuring the survival of Pintsized Interests in the long-term.
---